COMMENTS AND PICTURES FROM OUR CLIENTS ON ALASKA!
Adventures in ALASKA!

BUCKET LIST TRIP AND ANNIVERSARY IN ALASKA FOR THIS WONDERFUL COUPLE
Gayle,
We had an amazing time. Definitely a trip of a lifetime. We saw SO much wildlife (whales, orca, grizzly bear, moose, caribou, Dall sheep, puffins, black bear, eagles, seals, sea lions, and I'm probably missing some). Weather, as you know, was outstanding, and the scenery – well, that was simply awe inspiring. And the variety of excursions, experiences, etc.
Kathy and Doug
FIRST TIME CRUISERS AND ALASKA TOUR
I wanted to tell you how much we enjoyed the trip AND meeting your family. They were a delight and great fun. Please give them all our best. Loved sitting around in the Alaskan sun enjoying a cocktail (or 2). Honestly the trip was beyond our imagination. What we were able to see was breathtaking. Also

I was leery about the cruise just because I thought it was going to be way too many people and too much hoopla.

Although there was a lot of hoopla we didn't feel like we had to participate if we didn't want to. We are sooo glad that we had a balcony. Was so nice to sit by ourselves to enjoy the sights. I think we totally lucked out with the weather.
We felt the same way about Vancouver. We did the hop on hop off and were a bit surprised by all of the homeless people as well. We spent the night and had a great dinner at a restaurant near the Olympic torch. I will admit that Vancouver was pricey.
Being first time cruise people the only thing that was confusing and kind of annoying (although I get why they have to do it that way) was the early morning luggage process.
We will certainly recommend you to anyone and we will call if/when we travel again.
Enjoy the rest of your summer;
FAMILY ALASKA VACATION SUCCESS STORY!!!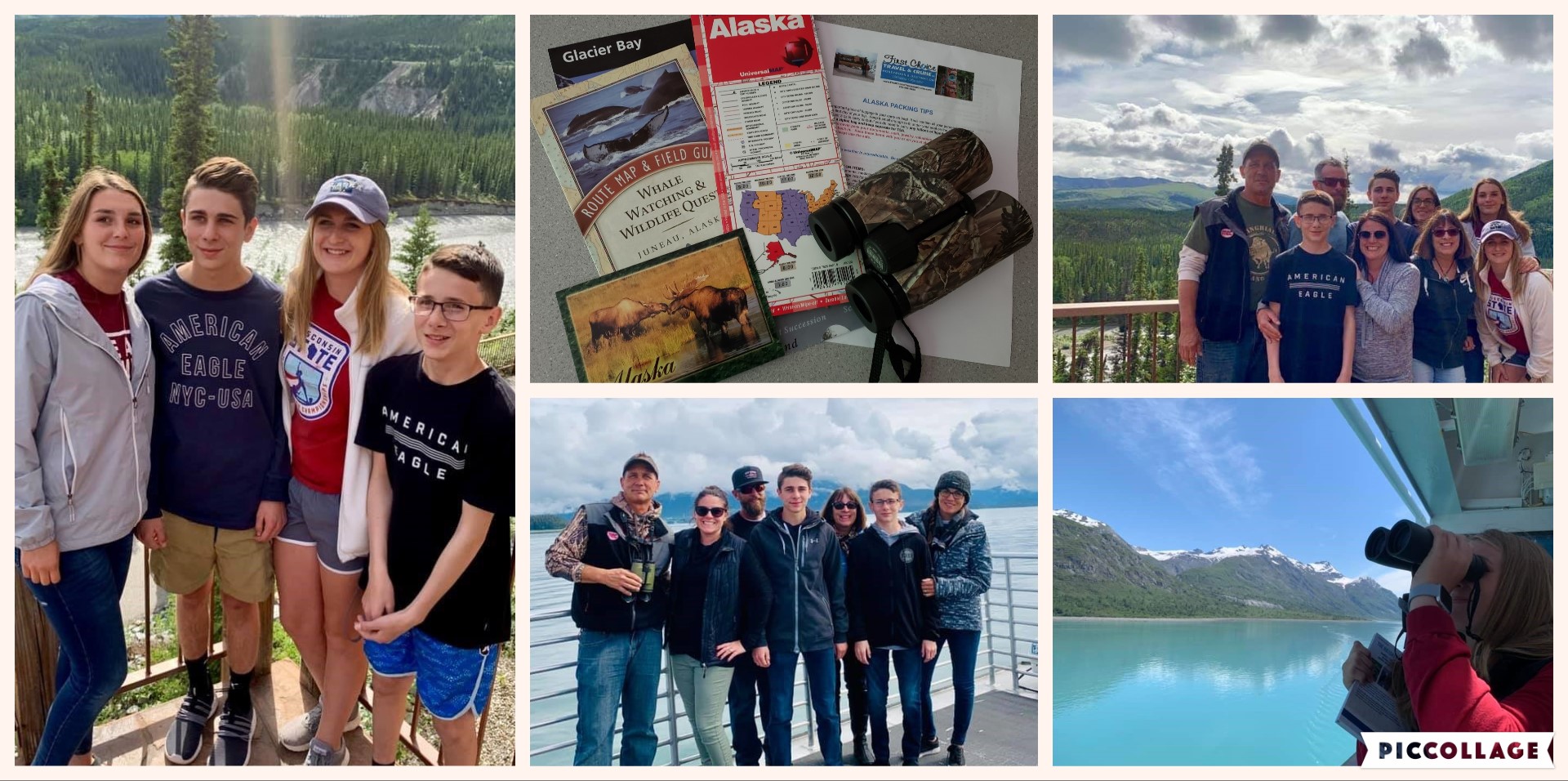 The Zielke, Zelechowski and Logan family loved their Alaska Cruise and Tour package! They all agreed it was their best vacation ever!!!


Family Alaska trip on Royal Caribbean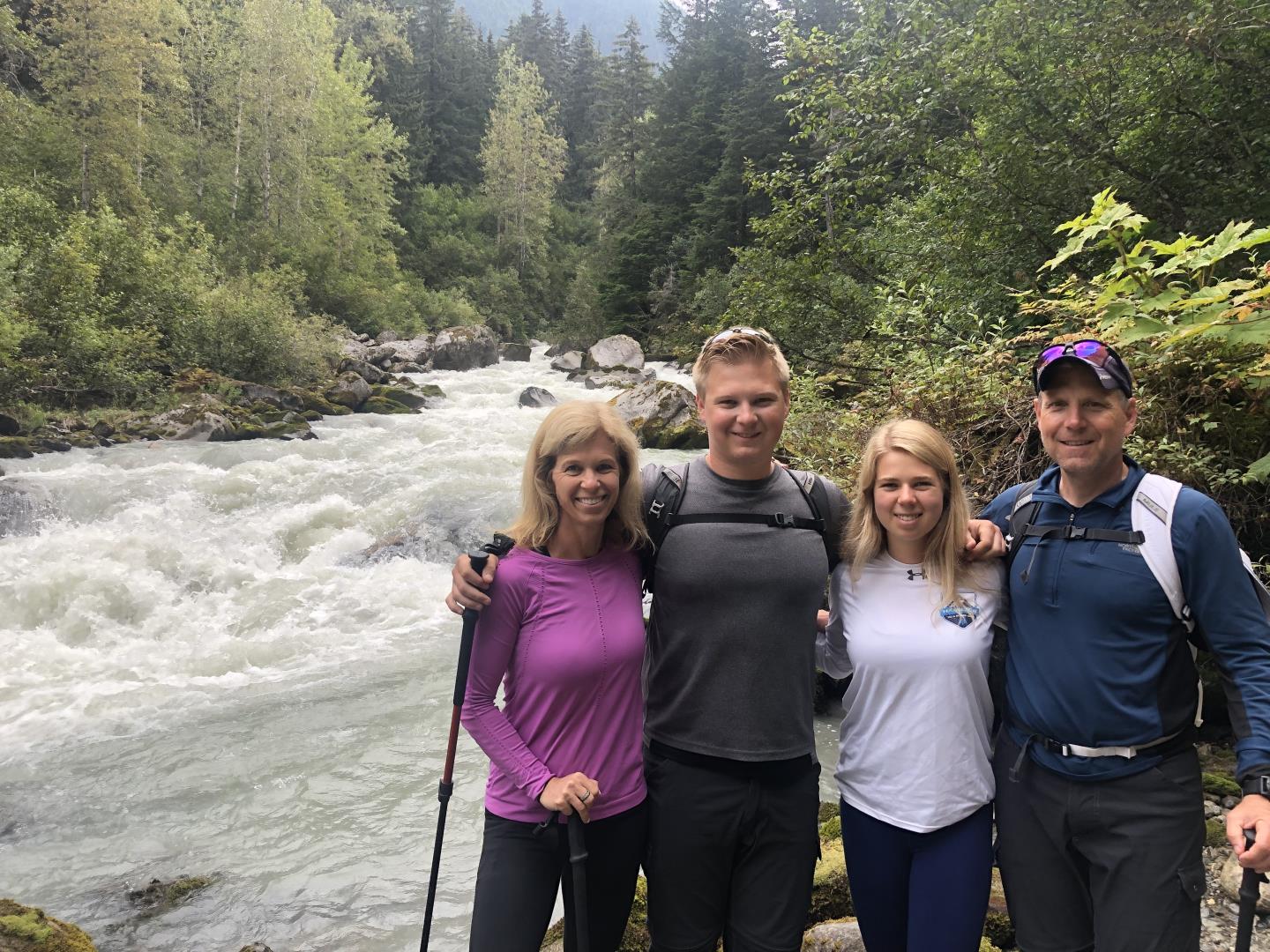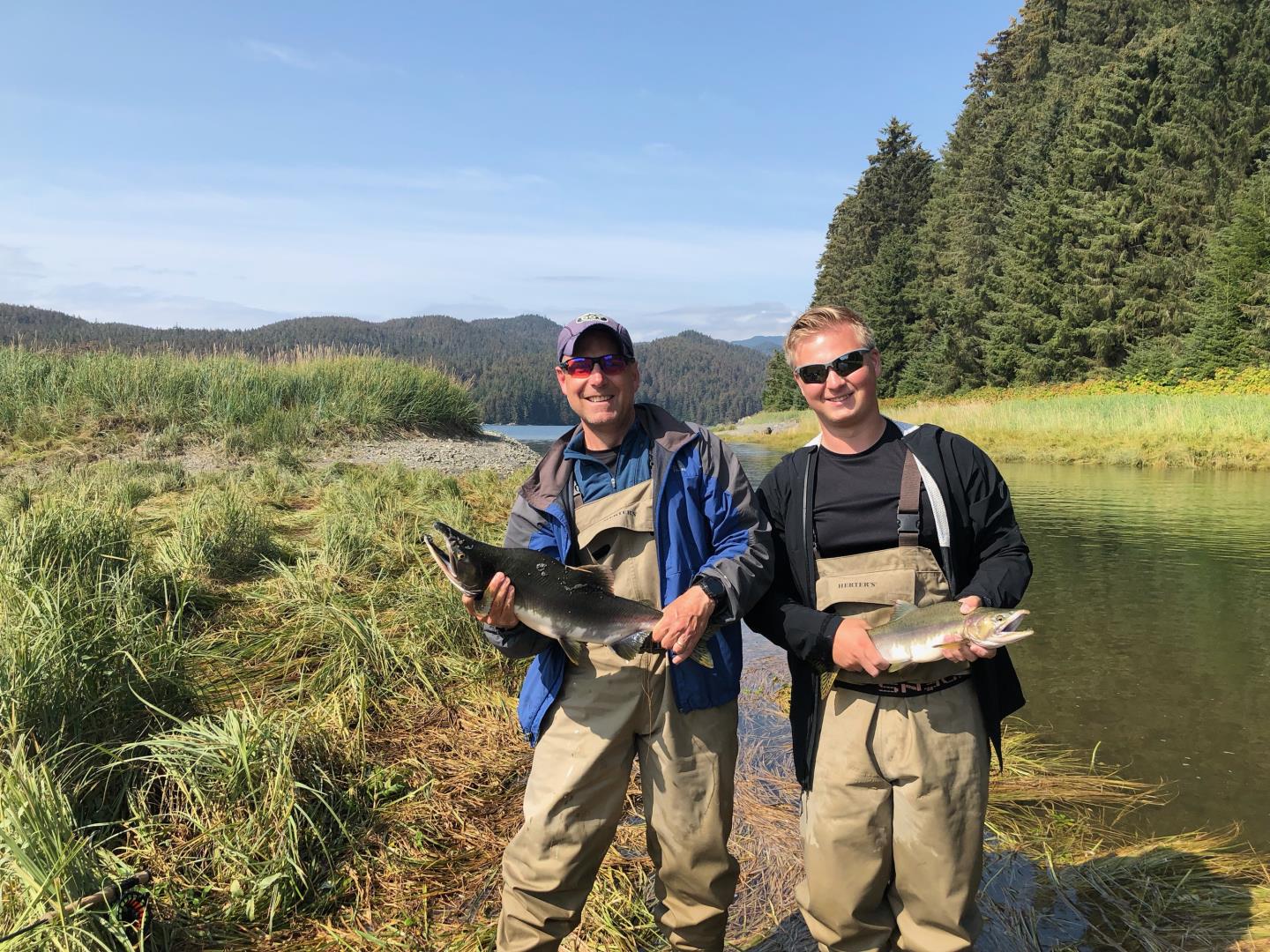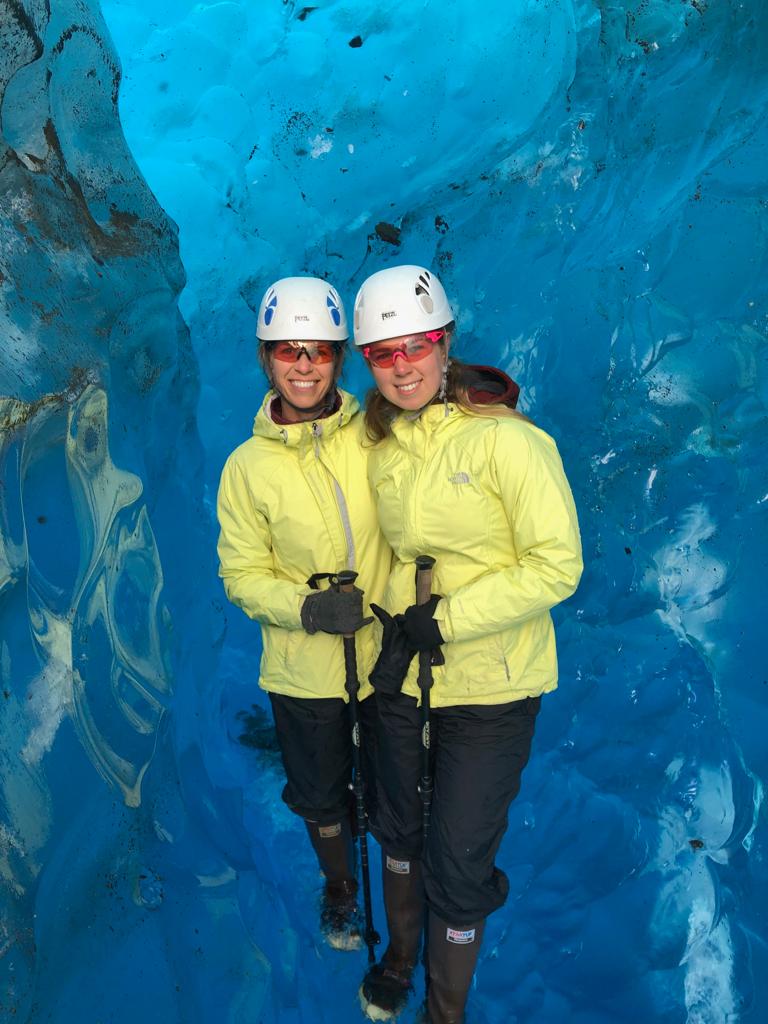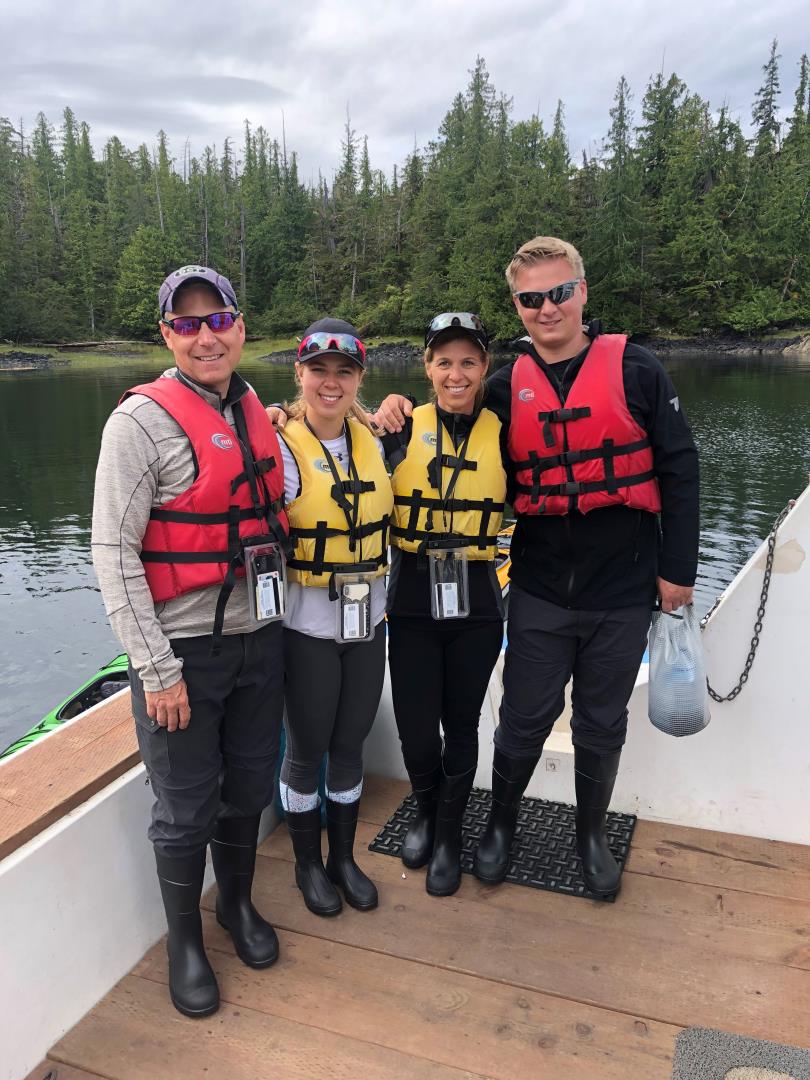 Hi Tana,
The trip was terrific! We enjoyed both the cruise and the wild Alaska frontier. We are an active family and picked excursions that were fairly physical. The favorites were the float plane/fly fishing and Mendenhall Glacier Canoe and Hike. We'd highly recommend both! We also enjoyed kayaking and did a lot of hiking into the mountainside. I'd say our least favorite stop was Icy Strait Point as it was seemed geared toward tourists and shopping, although there were excursions we could have elected. We would recommend the trip to others!
Thank you again for your customer service! We enjoyed working with you and appreciate you making it easy to via email!
Niebler Family
TRIP OF A LIFETIME!
Tim Allen took his close friends and family on an Alaskan Adventure they will always remember!!!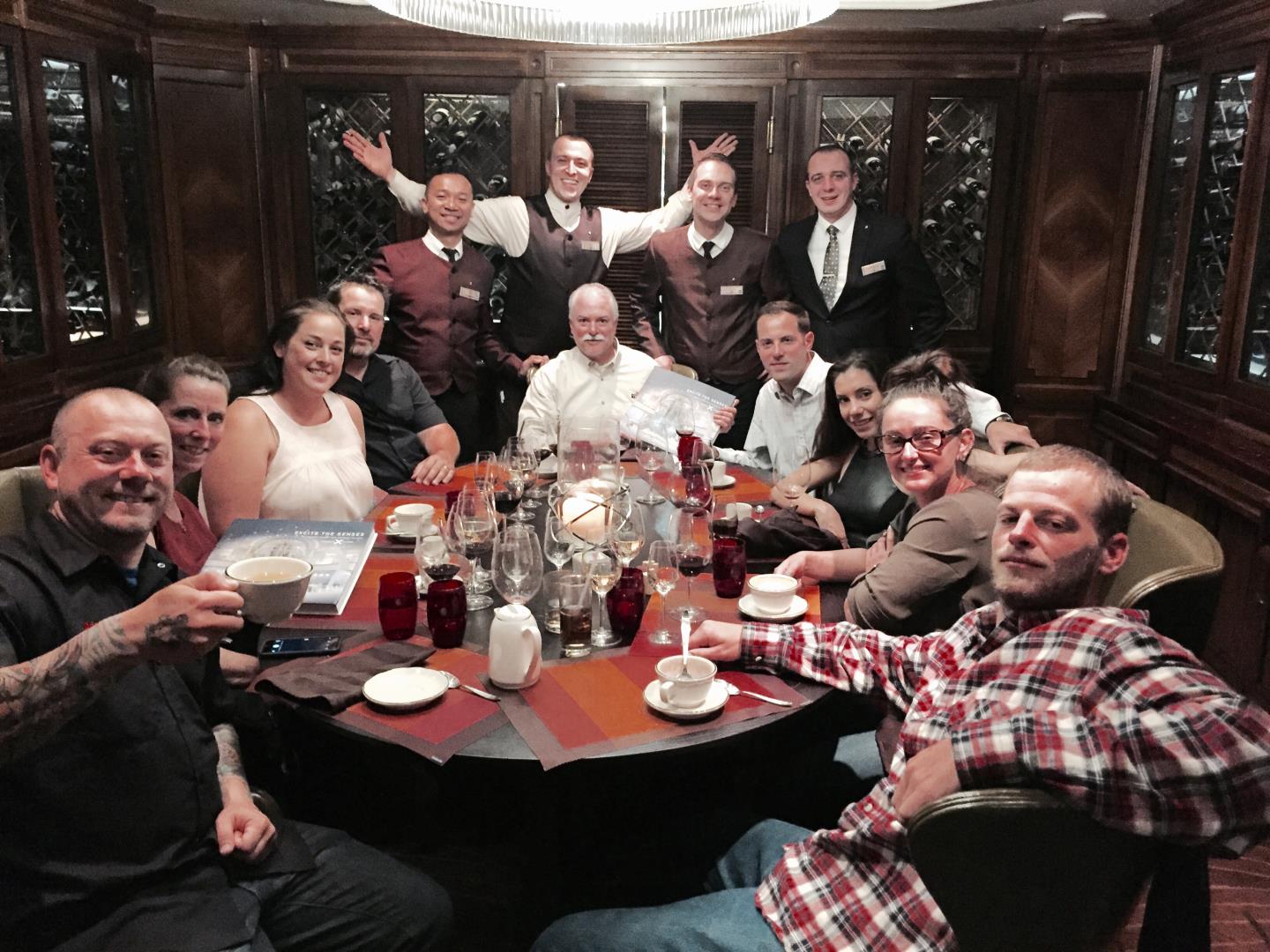 Gayle,
Alaska was magnificant! Everything was great. The weather was perfect. So happy we upgraded the drink program on Celebrity. The food was good but we wanted to try something else so we did the wine and food dinner and also the chef dinner which we all loved!

All the excursions we booked went well. The weather wasn't good for our kayak trip in Ketchikan so that was cancelled and we made our own fun checking out the local Alaskan breweries. Since breweries are what most of us were interested in, we loved this relaxing day all to ourselves!
We decided to take the longer Denali tour and saw a lot more wildlife like grizzly, moose, caribou, about 18 mountain goats. We saw Mt McKinley and it is never clear, only 20% of the time.
We also saw wildlife on the White Pass train. It was an older train but awesome. The Whales, Tales and Ale tour in Juneau was great. The Hubbard Glacier was magnificent and we had a sunshiney clear day.
Thanks for all your help putting this trip of a lifetime together!
Tim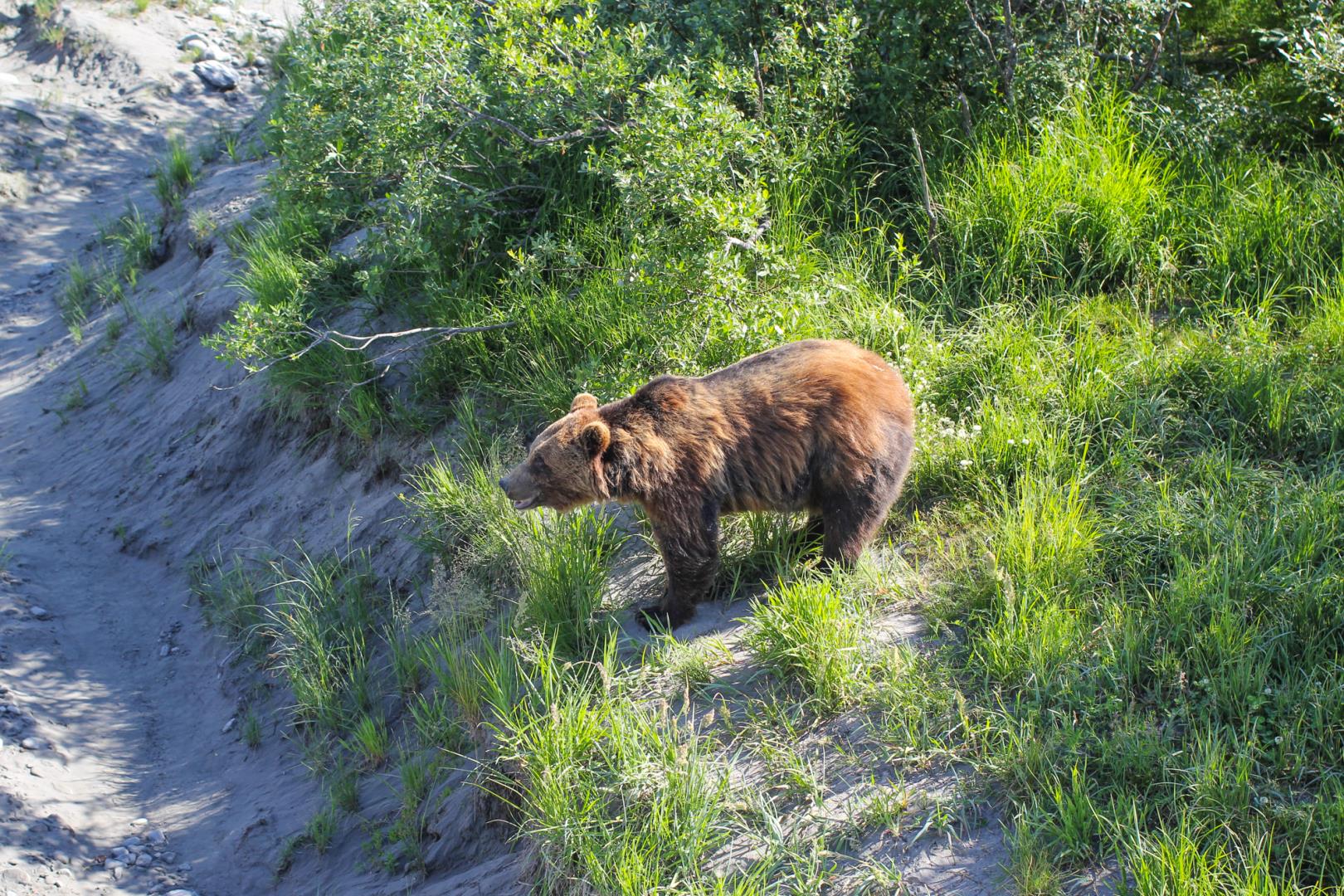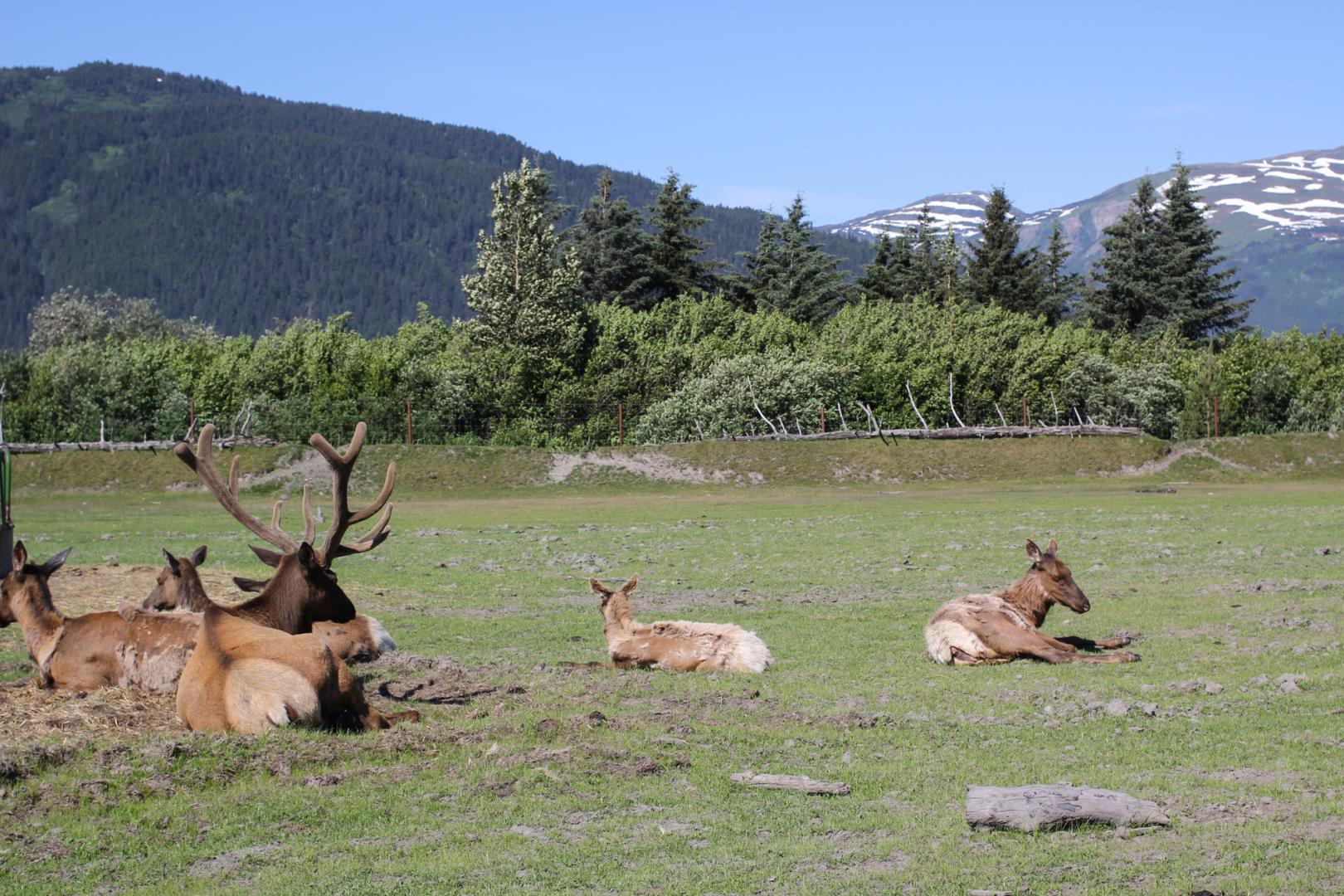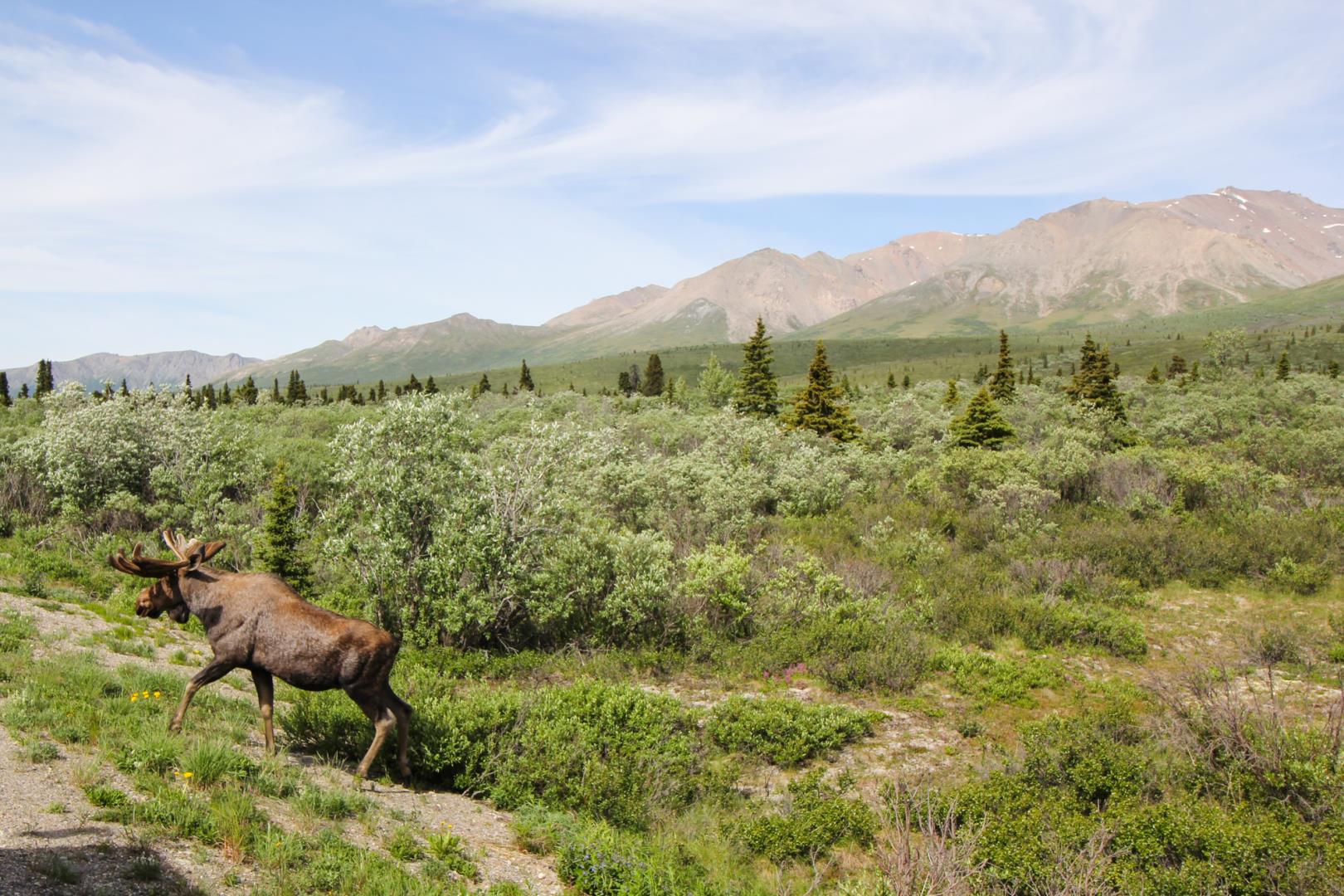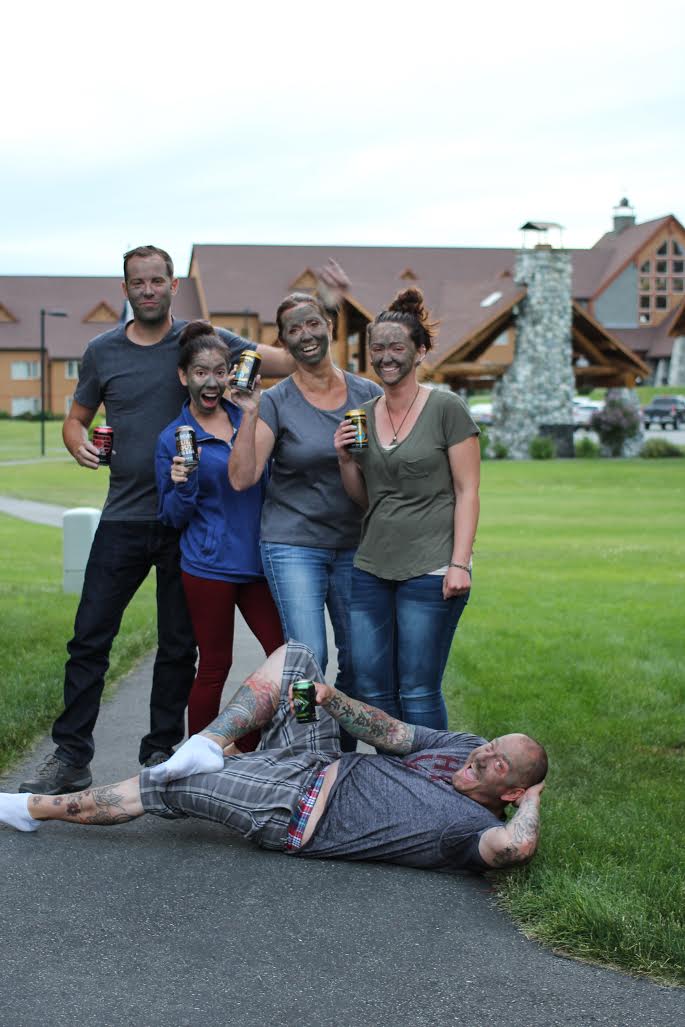 I had to share this one with you. We have now created a tradition when we all get together.
It started out as a simple we need help to drink the beer so we can have the cardboard carriers for our friend who collects them and posts them all in his garage. So as we were all sitting in one hotel room in Talkeetna we thought let's try the facials from the Alaska Glacial Mud Company we just bought in the hotel lobby to see if we should get more.
This photo is now a tradition that we will do every time we get together. The brave souls who dared to try the mud. It's awesome and you can buy it on line thanks to Shark Tank.
What a group!!!!
Sue
ALASKA BY LAND AND AIR....NO CRUISE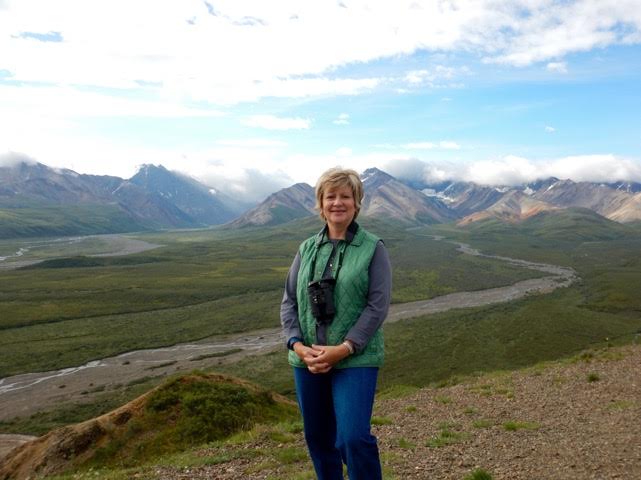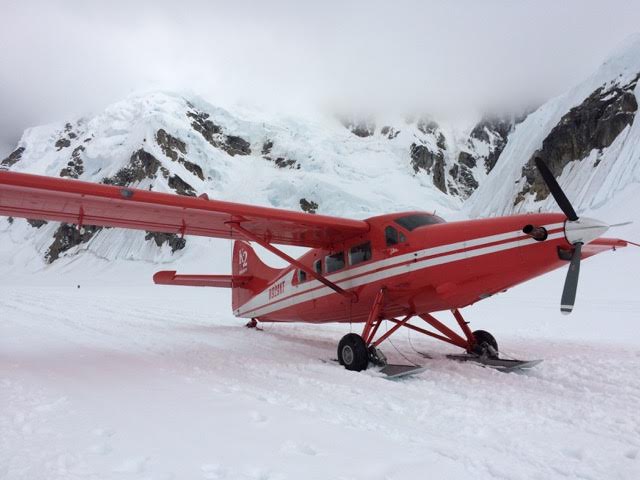 From Denali to Talkeetna and finally to Seward.
Our favorite day was spent in Talkeetna. We had the bright sunshine, clear blue sky and the majestic views of Denali. I would recommend the Talkeetna Alaskan Lodge and K-2 Aviation as the best ways to see the Alaskan Mountain Range. We were blessed with abundant sunshine, blooming fireweed and views that words cannot begin to describe! You simply know that you are right where you are supposed to be at that moment.
Thanks to First Choice Travel and Cruise for coordinating the most wonderfully relaxing and beautiful trip.
Patti
PRINCESS CRUISE ALASKA ADVENTURE FOR THE BUSALACCHI AND GANNON FAMILY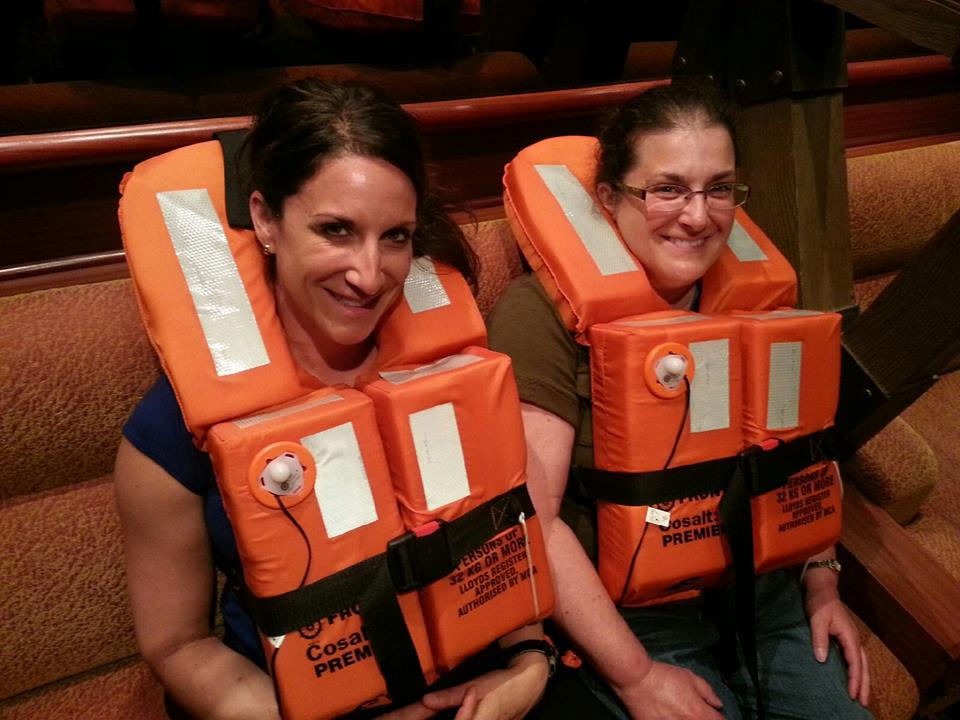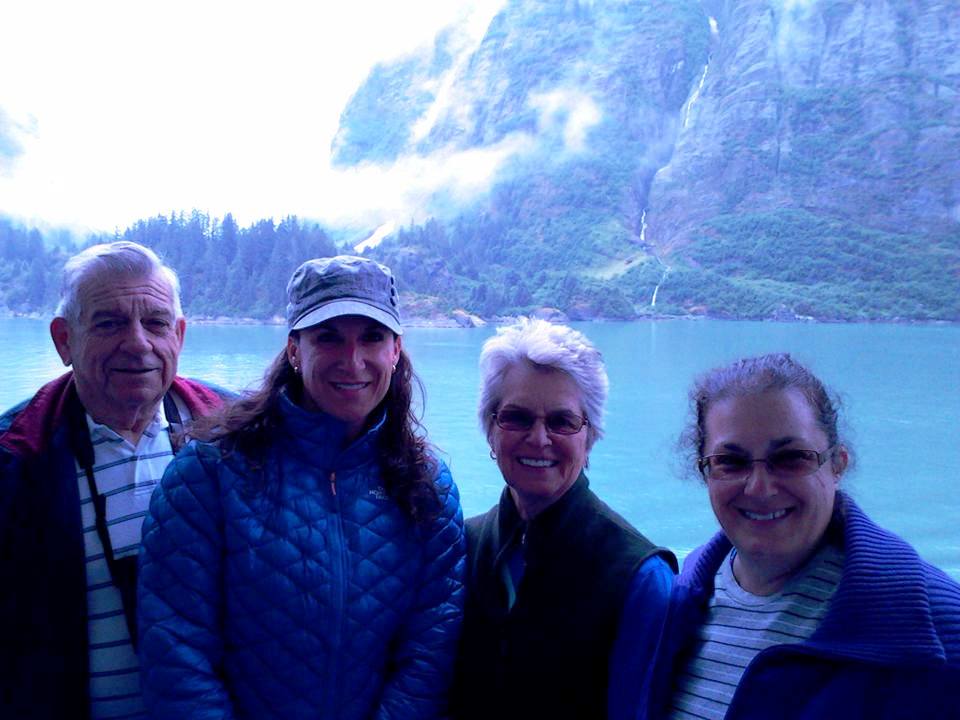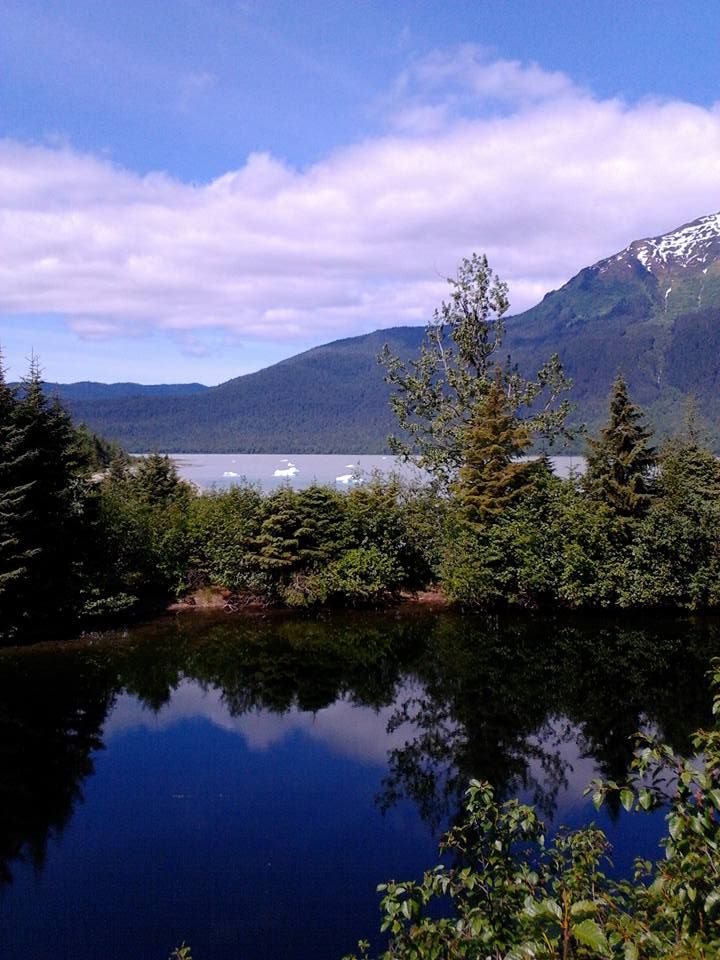 Gayle, Alaska was the most beautiful of any cruise we have been on. Princess was very nice. Brenda Busalacchi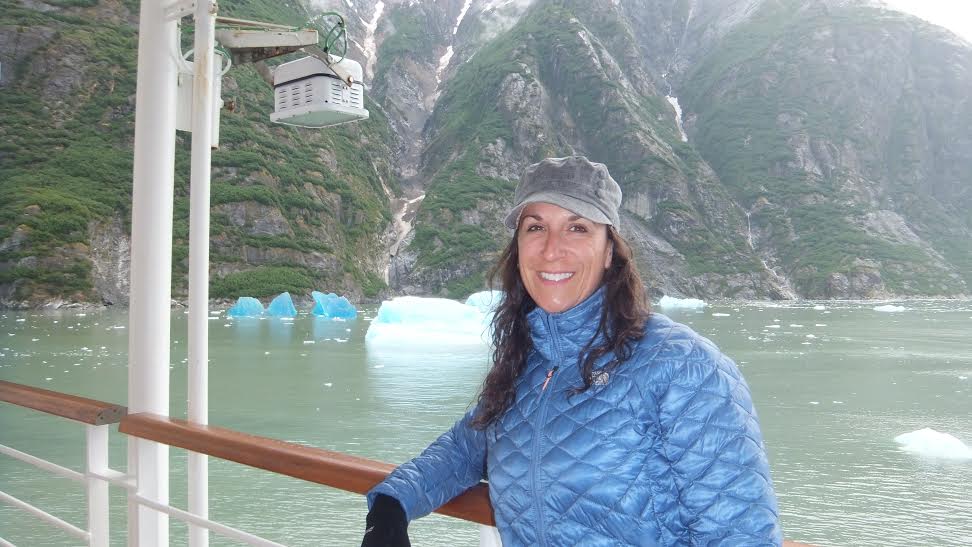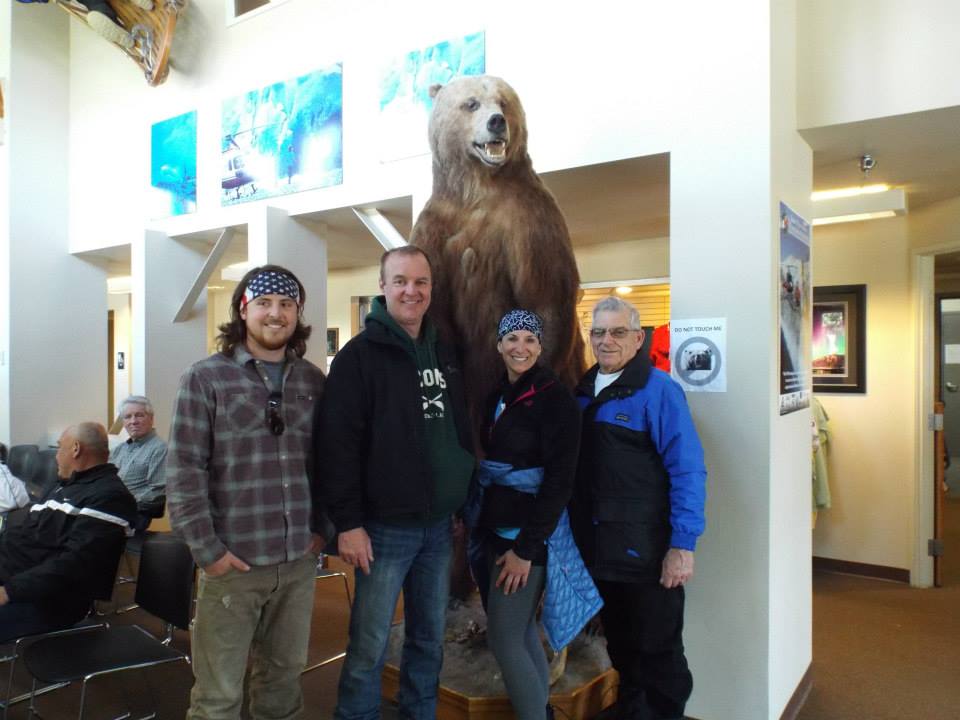 Gayle,I really enjoyed it! Alaska was gorgeous! My only complaint is that we weren't able to stay longer in a couple of the ports.. we got there- did our excursion and left.. it would have been nice to sight see on our own a bit. But overall the ship was nice (service wasn't as top notch as it used to be). Food was EXCELLENT and they catered to my nutrition needs very well. If I had to rate it from a 1-5 (5 being highest) I would give it a 4.2. LOL
This is a must DO cruise!!!
p.s our room was fantastic!!!
Karen Busalacchi
IFPA/WNBF Professional Physique Competitor
ALASKA family vacation

on the Star Princess from Anchorage to Vancouver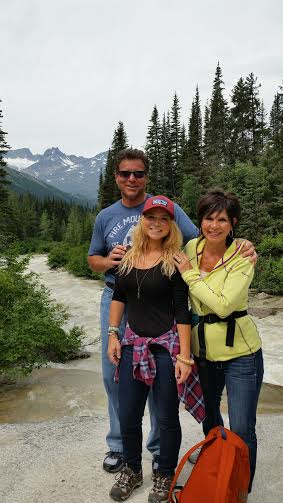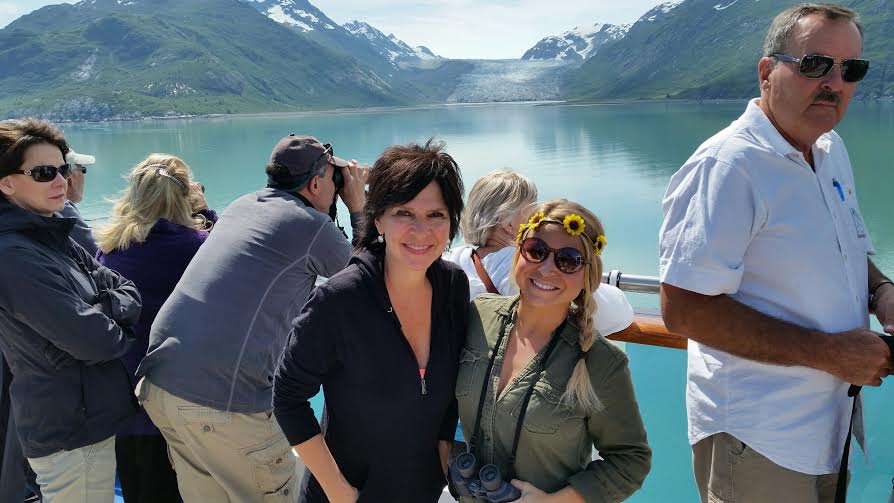 Hi Mary,
We had a great time on our cruise. The weather was ideal, as you can tell by the photos. Thanks for your help in planning it and also for the complimentary meals at the Ala carte restaurant.
Dan
ALASKA PRINCESS CRUISE and SHORT TOUR
Gayle,
The trip was really wonderful. We had great weather, lots of sunshine and fairly warm temps.
We really liked having the land and cruise done by Princess. It made the trip very relaxing. I also think having the land portion first was best since you have to move luggage in the early morning and hotels each day.
Having the non-stop flight and arriving early afternoon in Anchorage was a good choice. The view of the mountains as we neared the airport was amazing. We did some running around town and took in a few sights before dark. The Cook hotel in Anchorage was very nice.
The Denali Park excursion was special because we say a grizzly bear fairly close up and were able to linger and watch for quite awhile. The train ride from Denali Park to Whittier was great, loved the glass dome cars. We went thru so much beautiful scenery. The cruise was really nice. We highly recommend a balcony stateroom and a good pair of binoculars to really enjoy the cruise. High points were whale watching and seeing the glaciers.
We planned our excursions to start between
noon
and one so we had time for a leisurely breakfast and taking in the towns at the various ports. Returned to the ship around
4:00
or 5. This left us time for a drink on the balcony before dinner enjoying the view.
Our favorite excursion was the float plain ride over 5 glaciers in Ketchikan. The White Pass train ride had spectacular views and good commentary. In Juneau we went the see the Mendenhall glacier and waterfall. It's a very nice park and a bear and her cubs roam the grounds frequent a small river with salmon, so you might see that closer than usual. We took a boat ride to Misty Fjords which was nice but I think I would rather do a whale watching tour to see the whales up closer.
One other nice thing was that the cruise ship had a Naturalist the had a daily talk on the wild life we would be seeing and the glaciers. One other thing we enjoyed were the daily special guests (entertainers, park ranger, 1st women to win the Iditarod race, sled dog puppies, professional photographer, etc.). Because of the time of season that we were in Alaska our ship was always able to dock at the pier. It was so convenient that if we wanted to stop back at the ship mid-day we could and still make our excursion time. I was told that in July it's so busy that not all ships can dock at the pier, requiring shuttles to shore (not fun!).
Well, that's about it. We all had a great time :) I'll try to send a picture once I get thru the 1000 that I took.
Mary
ALASKA FUN ON CELEBRITY CRUISE
Gayle and Mary,
Thanks so much for all your work setting up our trip. We had a very good time and have a lot of great memories. If you need an unusual picture here is on of us at the Musher's camp. Our favorite part was playing with the Alaska Husky puppies at the end.
We toasted you and enjoyed the wine.
I forgot to thank you - the Captain Cook upgraded us to a Junior Suite which made a great finale to the trip.
Thanks!!
Cindi and Jim DeBruine
FAMILY ALASKA TRIP ON CELEBRITY CRUISES!
Alaska was AMAZING! We all got along just fine and had a ton of fun. The food was not as good as the other celeb ship I was on in the Caribbean. I
was expecting food to be as good as the other ship was but it wasn't. The service all over the ship was outstanding. So glad we got the sky suite for the extra space. Butler was nice too. Tours all went on without a hitch.

The highlight tour was the helicopter to glacier and getting out & walking around on it. Kids loved the kayaking. Totems were interesting. White Pass train trip was pretty cool. Short one;) whale watching in Juneau was good too. The Blue Horizon in Vancouver was nice. No complaints.
Lacey took a lot of pics, Lisa took quite a few pics as well. Actually we did get a good family pic on glacier.
We did bump up to the "premium" beverage pkg instead of "classic" which was included.
The only thing I would do differently is take a lot more of the warmer clothes and lot less of the fancy clothes. We did take rain gear thank goodness cuz we had quite a bit of rain. It was quite cool and windy a lot of the time. Thankfully we all took our layers but I could of used a few more sweaters cuz I'm typically always cold these days. So I bought a couple new sweatshirts. I heard from the guy that handles all the food ordering, etc. that eventually they will get rid of the scheduled dining times (early or late). Too many people have been complaining about dress up nites too. They will go more casual and phase out the formal nites. Apparently there are a lot of people who don't care for that. They would like to have several different restaurants with no time schedules. That's the direction cruise line is headed.
Thank you both for all of your help with this trip it was truly one of our all time once in a lifetime family vacays and you know we have been on plenty of them;)
I think we were all surprised that the scenery was so spectacular. It was all way better than I expected. Thanks again. We had a blast!
BTW... We saw tons of wildlife up in Denali, even a grizzly bear. Whoever said the grizzlies are still in hibernation was wrong;)
Celebrate a 30th Anniversary in ALASKA!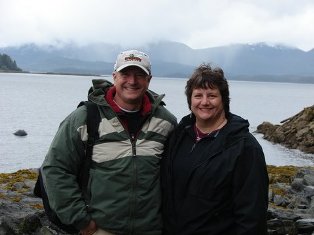 Hey Gayle,
We had a very nice time on the cruise. They did not upgrade our room on the ship. I was informed that just because we were celebrating a 30 yr anniversary, that it wasn't cause for an upgrade. The room that we had with the obstructed view was nice though.. it was our first time cruising with a window! It was nice to have the natural light. We really enjoyed the open dining option. We met many nice people this way and learned to try things we had not in the past…like afternoon tea and wine tasting- both were lots of fun. I got some awesome photos…I will send you some. Our ports of call were very interesting. We really enjoyed them.
I would recommend this cruise to anyone. The scenery was just beautiful!
Thanks for your help,
Kerry
NCL ALASKA CRUISE
Good morning Gayle,
We enjoyed Alaska tremendously and are already talking about a return trip. We have mixed feelings on the excursion question.
We went on a whale watching/glacier excursion and it was incredible. We got to see multiple whales surfacing but no breeches. We were close enough to hear them and it was very special. The glacier tour was also wonderful.
Unfortunately, our helicopter ride was cancelled the night before due to lack of people signing up. This was a pretty big disappointment and left us scrambling to find something else to do.
As far as cruises go, it was good but there were a few things we didn't like. We struggled with being "on the clock". This started with the scheduled dinners which were a big challenge for us. I guess we realized we don't like schedules on vacation. We also struggled with the stops. We really enjoyed each of the stops and always had to rush to get back on the ship. We understand the importance of the ships needing to depart but it really wasn't our cup of tea. In the next couple of years we want to go back and research the land and sea options.
All in all, it was a great trip and we both agreed it quickly became one of our favorite places. We viewed the cruise as necessary to get where we wanted to go. Don't get me wrong, the cruise has a lot of nice entertainment and activities which we enjoyed. We just like to be less structured and scheduled.
Thank you again for helping us with this trip. You're now 2 for 2 with Jamaica and Alaska. J Have a great day! Tim
SISTER TRIP IN ALASKA!!
Tana,
Thanks for allof your help with our Alaska trip. Here is a photo of Sue and I in Ketchikan.
It was a great sister trip!
Carol and Sue
An amazing 5th Anniversary trip in Alaska!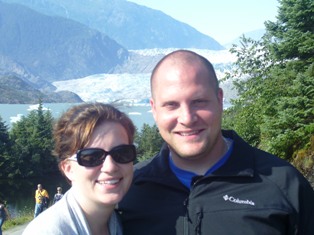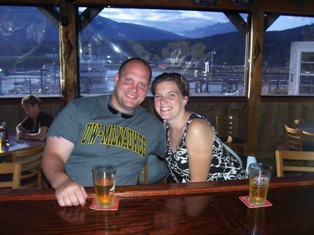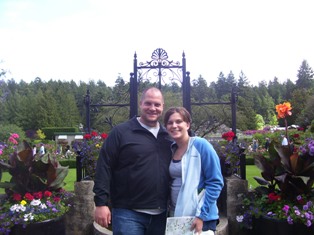 Gayle,
Here are a few pics of Brett and I in Alaska.
The one at the bar is when we were at Skagway Fishing Co. enjoying some amazing food and great beer. There are 2 of them when we were at the Buchart Gardens taking in the beautiful scenery and amazing gardens.
The other pic is when we were in Juneau checking out the Mendenhall Glacier...it was breathtaking!
Hope these help :) Thanks for planning such an amazing trip for us.

Regina St. John.
ALASKA CRUISERS!
Hi, Lisa.
Our cruise was awesome! The junior suite was just the right size for us, giving us room to move, sit together and make plans, and nicer bathroom facilities than I expected. The itinerary was perfect, since we wanted a few 'down' days to just enjoy the experience of being aboard, as well as a few 'get out and do stuff' days like we had in the ports. I was pretty impressed by Icy Straits/Hoonah. A teacher friend of mine taught on a nearby island for a few years, but she never got to visit this area. It's beautiful, and the opportunity to meet the people who actually live there instead of those brought in to run the tours in other ports was lovely. We also took the opportunity of visiting Ketchikan to meet up with a few teacher friends who live there now. They showed us a few things that are on tours, and a few things that aren't, so it was a busy day!
Overall, I'd recommend this cruise to anyone who wants a good time on board and just enough time to see a few things in port. We're even considering using this as our every-other-year mode of transport from Anchorage downstates.
This might be a lengthier review than you were expecting, but we both had a great time, and wanted to rave about it a bit more before we put the experience away for the coming year.
Thanks very much, and we look forward to working with you in the future!
Mary Ellen and John
Hello Gayle,
Our trip was awesome. Weather was great, couple days Mark worn shorts it was that nice. Just a couple days of light misty rain,(one day on the bus to Denali, one day while on the ship sailing.) Saw lots of animals on land and in water. Glaciers were awesome.
Thanks for helping us plan a great vacation.
Wendy and Mark
The highlight of our trip to Alaska was taking the helicopter from the Denali park area to the Glacier in the mountains. Absolutely Spectacular!!!
Mary
Adventure anyone?
Gene and Pat Bialzik and Ron & Jane Rollinger were very adventurous on their Princess Alaska Cruise. These river rafting trips are very popular for our Alaska clients. Thanks again for all your help. We will surely recommend you to everyone who is interested in going to Alaska. Pat Bialzik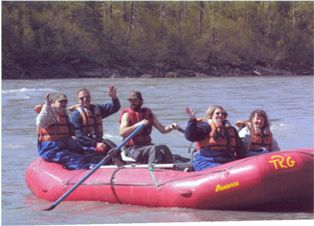 INNER PASSAGE OF ALASKA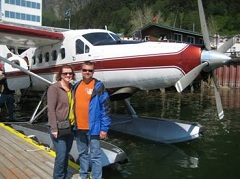 Hi Sheri,
Thank you for helping set up our cruise of the inner passage in Alaska. All the arrangements you made for us were great, since this was our first cruise it was nice to have someone that understand the industry make them. We had a wonderful room on the back of the ship in a great location and thanks for suggesting the assigned dinner time, it worked out great for us. We both really enjoyed cruising the inner passage and seeing Glacier Bay along with the towns we stopped at. We did not go with your suggests of execution, we did a float plane that viewed 5 glaciers, the views that we saw were awesome. But talking to others on the ship that did the excursions you suggested they said they were wonderful to see and experience.
Working with you was a great experience, any questions we had were answered or you were able to get the answers back to us right away. When we go again on a cruise we will book it through you again.
Thanks
Debbie & Randy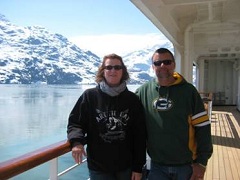 FAMILY REUNION IN ALASKA!

It is not every day you have a family reunion cruising in Alaska. This was a wonderful Alaskan trip for this family.... coming from all over the US just to experience the wilderness. They loved the white pass train trip, helicopter on the glaciers and just being together to enjoy this adventure!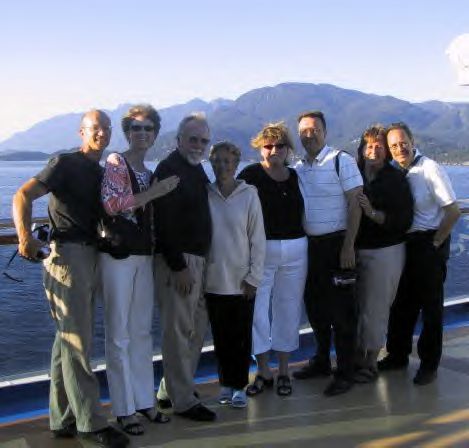 We liked the Mendenhall glacier!!!
- from left to right -
Paulie and Brian Haugen of Morrisville, PA
Mark and Carol Haugen of St. Peters, MO
Peggy and Paul Haugen of Hubertus, WI
Kathy and Keith Tracy of Mequon, WI

The Gehrmann Family just returned from Alaska

"Thank you for your help in arranging our trip to Alaska. The entire family returned with many lasting memories. The ship was great, the crew outstanding, & the suites worked well for us. This cruise made our 50th Anniversary very special.
Ralph & Betty Gehrmann and Family"

Thank you for the follow up e-mail. We thoroughly enjoyed the cruise. We saw a lot of wildlife(whales, eagles, otters, sea lions, dolphins & even brown bears, one with 3 cubs) and were amazed by the glaciers. We saw quite a few calvings, that was amazing. Unfortunately our helicopter excursion was cancelled in Skagway due to rain. I have to admit that we did not really enjoy the land tour. It was way too rushed for us and we really didn't see any wildlife. No sight of Mt. McKinley(gee what a surprise) or animals @ Denali. In order to see wildlife in Denali I think we should have been on a earlier excursion. It rained all but 2 days the entire time. We had really nice weather in Kenai but that was it. On the whole we enjoyed our trip and would recommend Alaska and Princess. I was extremely amazed at the service we received on the ship and land. Princess people were everywhere and very friendly and helpful. They were so organized and on top of things. We had absolutely no problems.
Candi and Jim Corrigan of Brookfield


ALASKA IS GREAT TO SHARE WITH FAMILY AND FRIENDS
A glacier was the backdrop for this beautiful photo of Scott and Jan Gray, Kathy and Jim Murphy and Pat and Roger Benway's trip to Alaska. Get your group of family or friends together and call us so we can help you start making memories like these.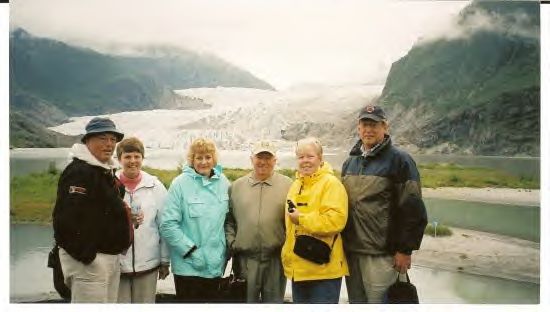 From left to right are Scott and Jan Gray, Kathy and Jim Murphy and Pat and Roger Benway.

Judy Wendt, Barbara Isleb, Janet Wickersham and Mae Jean Kanters finished their Alaskan cruise in Vancouver and took a day tour to Victoria to see Buchart Gardens.

Joe and Mary Ann Mundwiler from Mukwonago said the Princess Alaska Cruise and Tour they went on was "Totally Cool!" The personal choice dining was the best. We met so many nice people with that dining option. We loved the wildlife preserve and the whole trip. I will send in some pictures soon!
Mary Ann & Joe

Gayle helped the Bucholtz's on their anniversary trip of a lifetime in Alaska!

Rick and Margo Bucholtz from Oconomowoc cruised to Alaska on Celebrity Cruise Line. Rick and Margo both loved Alaska. Margo didn't think she would like it because she was used to the Caribbean. Once they got there they both thought the glaciers calving was breathtaking!! Rick said he would go again tomorrow.
Thanks for your help in this matter. We had a great time on our vacation, the weather co- operated and Alaska is just so beautiful.
Thanks again.
Jerry
Gayle,
Alaska was great. I will send you some photos--we have them all on disk--all 2000 of them. The country was beautiful and we saw Denali completely without clouds. That happened the morning after my friend died--I figure she was up in heaven and made sure it was beautiful. We truly enjoyed the whole trip.
The trip was so great!!
I will tell you it was so much fun with my kids--as adults they are great!! We love doing things together--and cannot wait for our next adventure. I will send you the pictures within a week.
Thanks for all you have done Gayle. Thanks for the goodies on ship--we used up the coupon books and enjoyed the wine and loved the book. You did well.
Pat B. from Ohio
This was a small family reunion trip to ALASKA. Families came from Ohio, New Jersey, Kentucky, Germany and South Carolina to meet up in the Great Frontier!!!
We had a GREAT trip! What an awesome state! We enjoyed being near the back of the ship & having that be "our deck" -- oftentimes we were the only one there. When we were by glaciers we had the longest view because you have both sides of the ship right there. And there is the overhang for the rainy days which quite honestly was most of the time we were cruising.
All of our tour guides everywhere were the best! What a treat. We learned a lot. We saw Mt. McKinley clearly 2 days in a row!!! Yup, we have LOTS of pictures! Then in Denali we saw almost every animal there -- black bear, grizzly, many moose, dall sheep, caribou, wolves, artic ground squirrels, a rare falcon . . . The bus driver was equipped with a camera that could zoom in on the animals in the distance for those who had trouble spotting them & there were pull down TV screens that would show what she was recording. VERY COOL! The fall colors were brilliant. It was cool to be there in fall too because the moose & caribou had antlers.
About the B&B (Denali Touch of Wilderness) -- it was very nicely decorated & it was nice that she provided a bag breakfast for those of us who wanted to eat earlier than she was serving breakfast. (We needed to be at the Denali bus by 7 a.m. & she served at 8 a.m.) I had what was basically an egg McMuffin, banana, juice & yogurt. We used her microwave to heat the egg mcmuffin. The downside was the building was not well sound-proofed when it was built. No one was noisey -- it was when someone walked upstairs, it was loud on the first floor -- not real normal.
The Kenai River Retreat in Soldotna was AWESOME! Even Mariel Hemingway has stayed there. The hosts are so nice and share lots of information and ideas about the area. The suite we had was well equipped & had lots of nice touches including a coin washer & dryer available. Tom asked if I found the softsoap in the bathroom -- I hadn't -- it was in such a cool lantern dispenser, it looked like part of the décor. It had a full kitchen including dishwasher, plenty of closet space, etc. and wonderful view of the Kenai River. The one thing if you send people there -- it is above the garage, so you need to take stairs to come & go. The property is very well maintained.
We enjoyed the boat tour of the Kenai Fjords National Park & the glaciers there. The weather was good while we were on he Kenai. Seeing the mountains across the Cook Inlet were not a problem. We have LOTS of pictures of them too. We also saw the oil platforms from Captain Cook State Park. We did get to Homer. And we rafted on the Kenai River.
We did stop at the animal refuge on the way back to Anchorage too. That was neat. When we drove from Anchorage to the Kenai Peninsula I felt like we were driving thru a relief map. The mountain ranges were amazing!
The weather was pretty consistantly in the mid-50s & we had packed what we needed for that.
All of our luggage followed us & flights were all on time!
Thanks for all your help in making this the trip of a lifetime!
Denise Kopitzke from Wind Lake

The trip was great. Your services enhanced our experience. We will stop
in to fill you in. Attached are the only pictures of the two of us out of 978 pictures. (I had
the camera!)



Carol & Buck Houston
This Family Alaska Vacation must have been great. We got the picture the same week they came home. I know they loved it.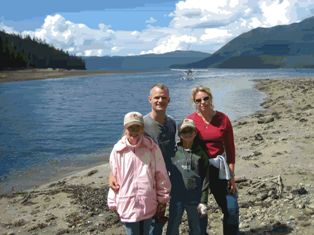 Dear Friends,
Back from the "Upper One" (Alaska) and had a great trip. The boat kept us plenty entertained but the scenery and animals were amazing. we saw... black bear and brown bear feeding on the running salmon, huge salmon, Minke Whales, Humpback Whales and Orcas, Sea Otters, Moose and tons of Bald Eagles. The glaciers were amazing and even saw them calving. I recommend this cruise to everyone. And I can't wait to go back and explore some more. Attached just one picture of us, the pictures just don't do the memory justice, but here we are awaiting our ride back (in the background) to Ketchican from our Bear experience in Anan Creek. Elizabeth Marquardt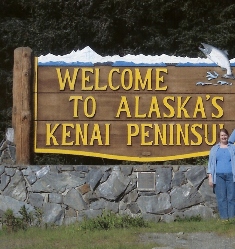 This years group was fantastic Judi said. This was a first time visit to Alaska for everyone BUT Judi of course! She never tires of seeing Alaska again and says she was happy to spend time with everyone. Some of the group got together for this picture. Back row L-R are Jeff Hanson, Sharon Buntin, Bob Lapointe, JUDI, Norman and Janette Jorgenson, Gerry Peliska, Jean Rosenwald. Front L-R Jodie Hanson, Elaine and Dale Regenauer, Pat Hanson, Naomi Henise. Missing from the group picture are.. William, Barbara and Brenda Griffin and Richard and Joyce Polster.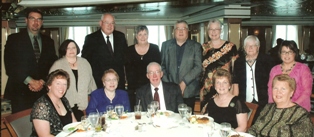 I left a phone message in your room at the end of the trip and thanked you for everything. Since that time, I have thought about calling you so often to thank you in person. I honestly was afraid that if I ever started talking, I would not be able to stop expressing my feelings ! It was hard to leave you alone on the cruise and let you spend time with your family.
Thank you for making the preparation of the trip so exciting. Laura really thought you were special when she met your. The families at our table made us feel very welcome and were fun to be with. We really enjoyed the land portion also, because we were near them and they were always pleasant and having such a good time.
You gave such good advice regarding the preparations for the trip. Your advice about bringing dollar bills in a good quantity was the best. It was so easy to have a large amount of them, because they were used often.
We were also happy to have purchased a heavy poncho form Dunhams in the boy scout section. We were able to sit out on the balcony allcovered up and be comfortable even when it was chilly.
Remember the excitement and disbelief I experienced before we went on the Alaskan Adventure? Since our return I am experiencing the same excitement and the same disbelief every time I think of the trip or look at the photos.
Imagine.... Mt. McKinley showed within a short time of our arrival. Dale and I took photos at midnight ! You may have heard that the weather was wonderful the entire time. The trip was perfect !!!!!
Thank you again for making it special. No one could have appreciated this once in a lifetime opportunity more than we did. We never dreamed we would ever be able to see this dream come true. We are so grateful !
Always Elaine and Dale Regenauer
PS I was looking at the Group Photo the other day. What a nice thing for you to do. The book was used everyday and is a great keepsake also !
This is Jerry and Linda Steinmetz, Charlene and Jerry Curtis and John and Sandra Demo. Charlene and Jerry Curtis stopped by to tell me what a wonderful time they had on their cruise tour to Alaska on Princess Cruises. They said the weather was great and that they saw Mt. McKinley almost the whole time they were in the area. John also stopped by and said the trip was Great! Mary Malsch
M

ORE FUN IN ALASKA

Bill and Barb Lannan want to thank Tana Kubricky for setting up our MAY 23 – JUNE 6, 2009 ALASKA/TOUR Trip. We had a great time. The ship, DIAMOND PRINCESS, was great. The land portion of our trip was beautiful. The Princess lodges were better than we expected, especially the Kenai Princess.
I

t was really weird having 21 hours of daylight. Can't imagine having 21 hours of darkness in the winter. Princess Cruise line does a great job to make an Alaska trip..... A TRIP OF A LIFE TIME!

Thanks again, TANA

BILL AND BARB LANNAN OF WAUKESHA

Mary Malsch, Operations Manager at First Choice Travel and Cruise returned from a trip to Alaska with her family and a group of adventure seekers. Check out this picture of Mary, Brooke and Harry Malsh standing on a glacier.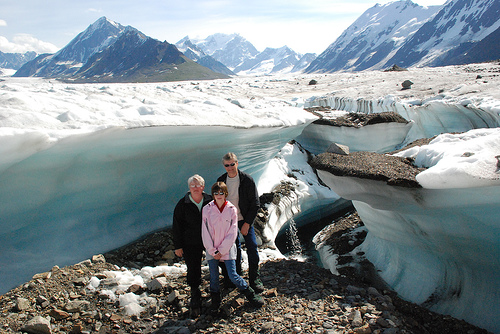 Mary was thinking that her daughter who just loved Alaska so much...probably wanted to stay there! She met so many new friends there.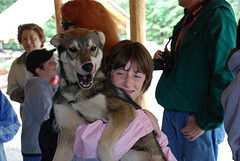 Almost all of the First Choice Travel agents have been to Alaska. Sara has put it on her list for sure and recently made it there with Mary Malsch who has been to Alaska many times!
You can see more pictures under Meet our Agents pages.
Our whole office will agree that State Certified Alaska Specialists know Alaska inside and out. Some of us have been to Alaska many, many times along with numerous trips to Canada back and forth. Gayle has been all over the state of Alaska from Anchorage, Seward,the Kenai, Copper River, Denali and Fairbanks. Mary has been there on land and cruise visits! She trys to visit often to keep up with all the changes and updates. Call for an appointment if you want to see the BEST that ALASKA offers! 262-542-5955/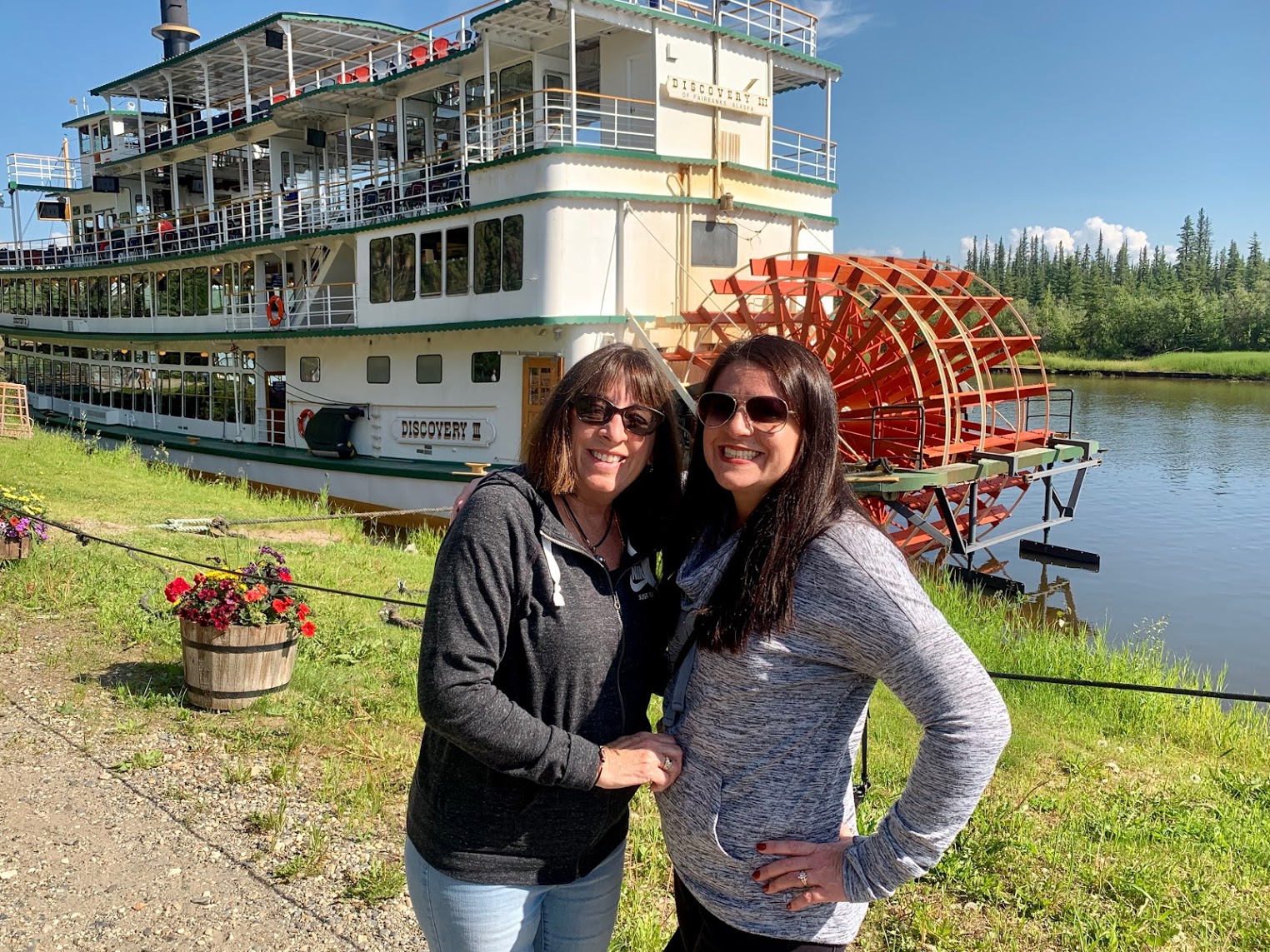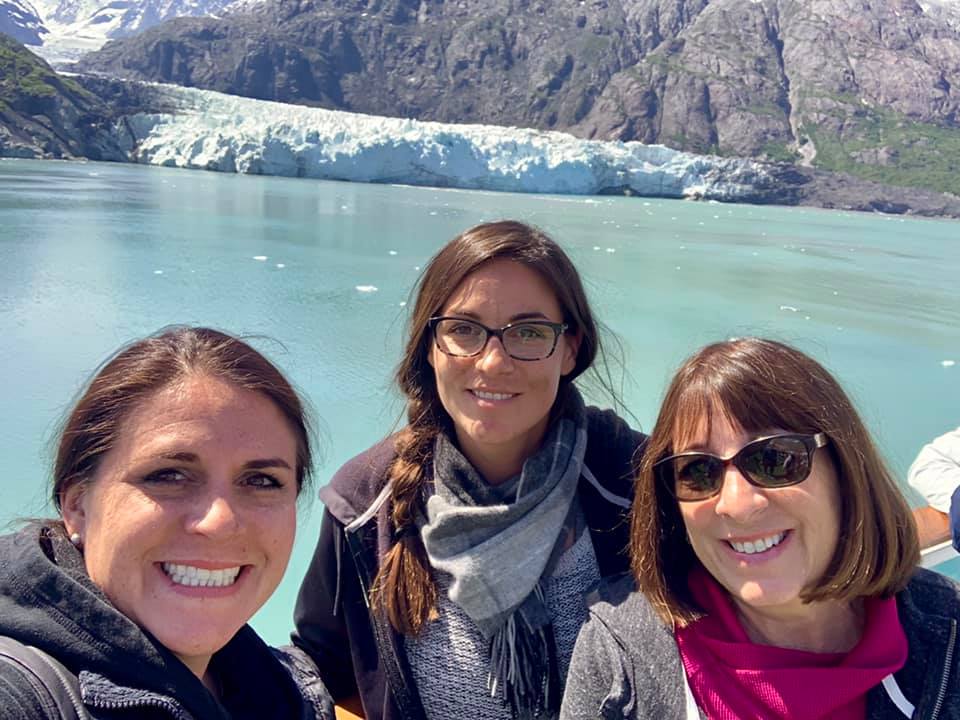 CALL FIRST CHOICE TRAVEL AND CRUISE'S ALASKA SPECIALISTS WHO HAVE BEEN TO ALASKA ENOUGH TO KNOW THE INSIDE SECRETS!!!
You can give the GIFT OF ALASKA to someone you love! YOU will be a HERO!
Travel with the Experts and enjoy "YOUR ALASKA ADVENTURE"! Call 262-542-5955 / 800-896-4360 or email us at:
Did you
"like" us on
Facebook yet? Please share some of your fabulous VACATION experiences and pictures or check out the latest guest pics on our page!