First Choice Travel and Cruise Celebrated 25 Years
Join us on our adventure as we celebrated the "SILVER" ... 25th Anniversary of First Choice Travel and Cruise!

We Celebrated 25 years at our Customer Appreciation Events!
LOTS OF PRIZES
AND TRIP GIVEAWAYS WERE WON!

Please enjoy some of our fond Memories of the last 25 years!

CONGRATULATIONS TO ALL OUR WINNERS FROM OUR CELEBRATION & CONTESTS
Winners were chosen on FACEBOOK LIVE if you want to watch.



GRAND PRIZE WINNER was MARGO BUCHOLTZ
Secrets the Vine and Apple Vacations provided a 3 night stay with air!
Sarah Hooyman won a Globus Gift Box full of goodies!
Len and Reggie Lester won a Princess Gift Bag full of prizes.
Roger Sikorski won a picnic basket of wine from Celebrity Cruises.
Tiffany Noll won the SPA MASK and ROBE from Celebrity Cruises.
Sue Peterson won $100 gift card from our friends at Travel2
Last but not least .....Our WINNERS
Nominating a deserving vacation
Congratulations to Al & Phyllis who were nominated multiple times for their many acts of kindness and donating all of their free time to volunteering in their community!

We were overwhelmed with the response we received from people reaching out to us on the behalf of Al & Phyllis. Once again, congratulations Al & Phyllis, you're going to the beautiful Ocean Coral & Turqesa in Mexico with air provided by Funjet Vacations!

Some pictures from the party!
​2120 E Moreland Blvd. Suite K •Waukesha, WI 53186
Fabulous prizes, FREE vacations, exciting surprises and more were won by many! We will post all the winners!
https://www.facebook.com/DestinationWeddingsbyFirstChoiceTravel/
Your favorite photo booked by First Choice Travel and Cruise will be used for us to put on our "WALL of FAME" and Facebook! ONLY ONE PER HOUSEHOLD PLEASE! Send by email, snail mail or come on in and drop yours off at our office! We will enter it in FACEBOOK for you. Then we need you to get your friends and relatives to vote for YOU!!! Vote for your favorite pictures!
Restrictions Apply:
Must be 21 years or older since you do have to check in to the hotel.

Please only one entry per family/household!

Must be a photo of a trip you booked with First Choice Travel and Cruise in the last 25 years!!!

Non transferable, no changes or substitutions allowed.

Date restrictions apply.





PRIZES! PRIZES! PRIZES! We have lots of prizes to still give away!
LETS TALK ABOUT THESE AMAZING GIFTS AND OUR GENEROUS SUPPLIERS WHO WE LOVE TO PARTNER WITH FOR THE LAST 25 YEARS!
ENTER TO WIN THESE TRIPS FOR TWO! GOOD LUCK!
GRAND PRIZES:
CANCUN ALL INCLUSIVE TRIP WITH CHARTER AIRFARE SUPPLIED BY APPLE VACATIONS
Airfare from Chicago or Milwaukee and 3 nights all inclusive at the Secrets the Vine ( A 5 star/Apple all-inclusive Resort)
JAMAICA
Airfare from Funjet Vacations with 4 nights accommodations at the all-inclusive Riu Reggae in Jamaica
3 NIGHT ALL-INCLUSIVE STAY AT THE NOW SAPPHIRE SUPPLIED BY AMRESORTS (CANCUN, MEXICO)
3 NIGHT ALL-INCLUSIVE STAY AT THE GRAND PALLADIUM VALLARTA SUPPLIED BY THE PALLADIUM HOTEL GROUP
PUERTO VALLARTA, MEXICO
2 CHARTER AIRFARE SEATS SUPPLIED BY FUNJET VACATIONS
(MILWAUKEE OR CHICAGO)
INTERNATIONAL GIFTS - COMPLIMENTS OF GLOBUS, COSMOS AND AVALON RIVER CRUISES
1. International adapter
2. 1 - $50 visa gift cards.
3. Avalon cookbook
4. 2-international gift boxes.
5. 1 - $50 visa gift cards.
VIKING RIVER CRUISE HAS SUPPLIED A $200 GIFT CERTIFICATE
$200.00 per stateroom shipboard credit offer for you Open House on October 20, 2016 . Please note, Shipboard Credit is not applicable to group bookings, Egypt, Vietnam/Cambodia, Myanmar (Burma) itineraries and any bookings sailing within 60 days. Offer is valid only on river cruise itineraries.
**Ask us about our special pricing and exclusive SALES all month long!
Greetings from Gayle Zielke, president of First Choice Travel and Cruise
I cannot believe it has been 25 years ago that we started First Choice Travel and Cruise! Seems like just yestarday that we opened our office in the Fox Run Shopping Center in Waukesha. We have wonderful memories to share of our original employees, even back in the early days of parties, open houses, destination seminars and so much fun.
Looking back, I remember making my children Gesica 13 and Ginger 11 wear little sailor outfits (I think they wanted to!) and Gary had a Jamaican hat and wig on for one of our Grand Opening parties for each office with a Jamaica band.
We always had big WINNERS at our grand openings so maybe this time it will be YOU!
It has been an incredible journey and I still feel the passion and love for people, vacations and travel! As an entrepreneur I know first hand that we can have a positive impact on our clients and friends lives. I love it that my honeymooners 25 years ago are still traveling with me. (Ok so maybe 3 kids later and there was a few years they were not traveling but now I know how busy they were and forgive them for not calling!)
Couples who are just starting out together are so fun to work with. First time travelers are also a favorite of ours so we make sure to hold your hand all the way. We are confident that when you are ready you will come back and be a client forever.
Our clients who travel every year with us or even a couple times a year, either know what they want or need some exciting new suggestions and assistance and that is why we are here for you. We love making these lifelong connections from honeymoon or destination weddings, to anniversary and then family vacations later.
Everyone has a life journey and story and we are lucky enough to be a part of it.
First Choice Travel and Cruise would not be as successful as we are without the outstanding team I have had the pleasure to work with for the last 25 years. Mary Malsch my right hand gal and Operations and Office manager has been with us for 24 years! We couldn't live without her!! Tana Kubricky our Honeymoon & Destination Wedding department manager has been with me since 1998 and began at our Delafield office. She was just a kid then too, unmarried and no kids then! Pat Weber, one of my favorite assistants joined us in 2003 and retiring this year. Sara Batchelor in 2008. Since 2012 Lisa Conley has been with us and Jan Rzepinski was one of our good clients and joined us in 2014! Holly Washow, another client came to work with us last year. Lisa is coming back in the office and we can't wait to see her smiling face again!!
Of course we can't forget some of our great agent retirees who were a big part of our business and with us for years! Important travel specialists like Judi Lapointe who started almost from the beginning in 1994 was our Alaska and Canada Specialist, Susan Sucharski, Diane Williams, Carol Zeck and Karen Noll started in 1997 and retired just a few years ago. We still see the local gals (Carol and Diane are in AZ) and they are still clients of ours and friends with us on facebook!
Our agents that are independent and work from home are also part of our First Choice Family and as important as the team we have working inside our office day after day.

Kathy Neuharth and Shirley Senske have been with me since the very day we began, so that is 25 years ago!!! Kathy retired from working inside and is still selling vacations with us at her leisure. Cathy Eichkoff joined us in 2004, Bette Zarnke came to us back in 1997, in 2006 Laurie Schweikert, Paula Weber and Suzie joined us. In 2009 Lynn Ewerdt, Debbie Webster and Diane Rice joined us in 2010 from another agency who has since closed. Our First Choice Travel family has grown through the years and I wouldn't have missed working with any of these gals for anything!
My team and myself have been so fortunate to travel and tour so many wonderful and exciting destinations. We do want to share our experiences with you!
Looking forward to the next adventure and 25 years. Eager to continue working with you on your next journey and vacation.
I can't live without my passport! ......Can you?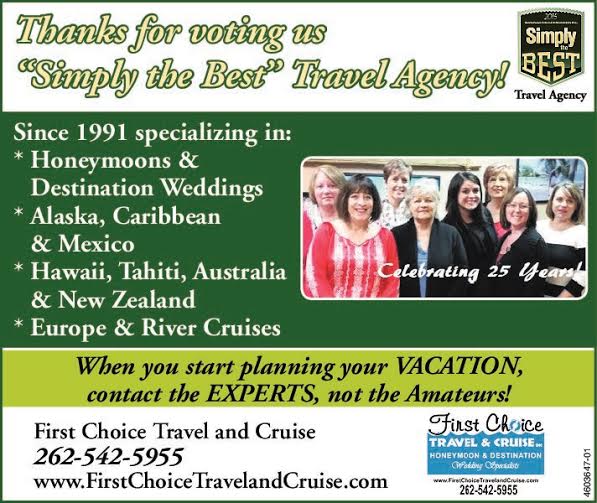 History of First Choice Trav
el and Cruise
How we began! Gayle and Gary Zielke started First Choice Travel and Cruise in October of 1991 and opened our first office after a much needed remodeling job in the Fox Run Shopping Center in Waukesha. It was so busy there, cars filled the parking lot. We were welcomed with open arms in the area and by our friends and clients!
In 1993 we opened our second office in Greenfield on Hwy 100 and Layton, In 1996 we opened our third office in Delafield on Hwy C. About 6 years ago we were asked to re-locate by the WestBrook Mall owner. That was an unexpected invitation that turned out to be the best move ever. With almost 20 years in Waukesha at Fox Run it was time to move forward and that is how we are now located in WestBrook Mall. We did start to consolidate the offices and so many employees stayed and worked with us until retirement. We have a wonderful group of younger happy, positive people who are a pleasure to work with. This says alot of about the atmosphere at First Choice Travel and Cruise and the work ethics, motivation, expertise and

camaraderie

of our staff which is what made us such a great success and for our long range future.
Please enjoy some of our old photos! and MORE!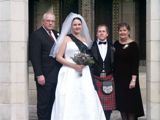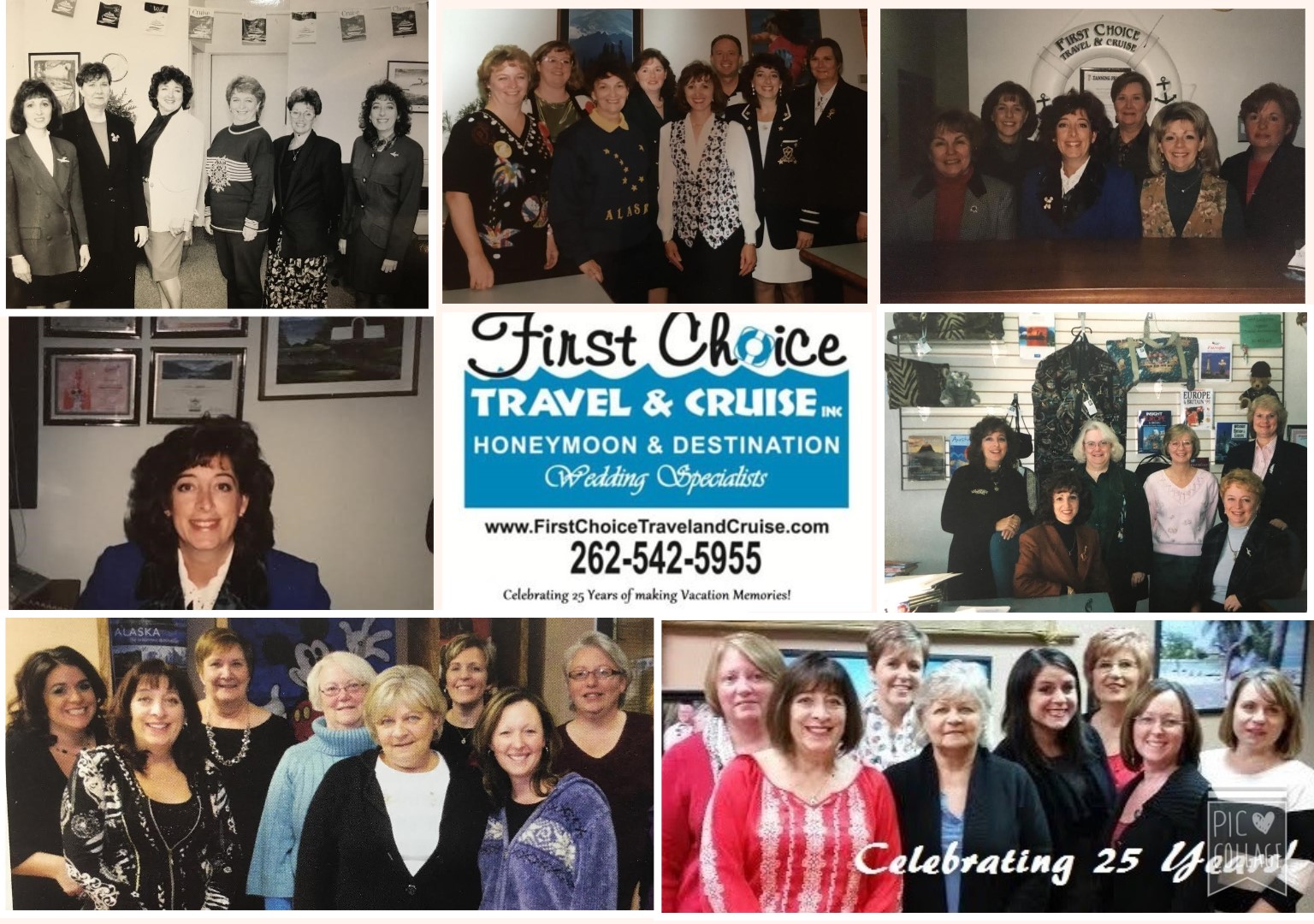 When you start planning your VACATION, contact the EXPERTS, not the Amateurs!
First Choice Travel and Cruise would like to thank you for supporting a local business!
Gayle Zielke, MCC president
First Choice Travel and Cruise
HONEYMOON & DESTINATION
Wedding Specialists
First Choice Celebrated 25 years of Travel Memories!
"My team is a total inspiration to me with all their passion and dedication to our clients!" Gayle Zielke, president