Punta Cana is a very popular Caribbean Destination for couples, singles and families alike. You will find more than 40 miles of incredible white powder sand beaches here. There are casinos, world class restaurants, amazing spas and very big on GOLF here!
The average temperature of 81 degrees is also a big plus for all our snowbirds!
Punta Cana is a wonderful tropical destination geared for honeymooners, destination weddings and guests looking for relaxation and a little adventure.
With so many brand new resorts and hotel rooms located in Punta Cana there is the perfect hideaway location you are looking for!
Adults Only All Inclusive Resorts are very popular for honeymooners and anniversary guests. Destination Wedding groups also like the idea of no children for some weddings. Other groups prefer the Family resorts which are easy to find in Punta Cana and La Romana. From Luxury boutique resorts to the larger resorts, there is plenty of beach space and activities to enjoy.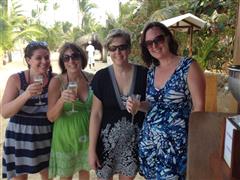 On our last First Choice Travel and Cruise visit to Punta Cana we saw lots of new resorts and met up with all the hotel managers and wedding coordinators for our clients.
So many NEW build resorts and updated hotels that we had to go visit this important vacation destination. We all agree it is important to keep up one step ahead of all the changes so we can recommend the right resort and activity for our clients!
Tana took excellent care of the "Z" family! I know she appreciated this email upon their return.
#firstchoicetravelandcruise
#makingmemories
#travelreset
#muchneededFAMILYtrip
#localagent
-------------------------------------------------------------------------------
Our family just returned from the DR after booking a fabulous trip with Tana and First Choice Travel.
This trip was so needed after a challenging year. The sun, sand, incredible weather, and the people were such a healing and restful treat. We did realize how the stress penetrated our lives, and this trip was a huge reset!
I am so grateful to Tana, she spend so much time with us ensuring we were comfortable. I am forever grateful!!
We have lots of ideas for your next trip to Punta Cana! When you start planning your PUNTA CANA VACATION, contact the EXPERTS, not the Amateurs!